In the past few months, Google has introduced many new innovations and updates which helps in improving the performance of their advertising platform. Google is leveraging its machine learning capabilities to a very high extent, that's capable of transforming your advertising campaigns through optimization techniques and innovative outreach methods.
Here are the 5 latest updates on Google Ads you must know.
1.Expanding advertiser access to 15-second non-skippable video ads
From 6-second bumper ads to 30-second skippable ads in instream and video discover ad formats, advertisers can take advantage of using a wide range of video lengths to achieve the campaign goals. Now a much longer video length format can be run without a skip button added to it.
15-second non-skippable ads was a key ad format on YouTube, but the format was available only to advertisers via YouTube reservation. Now from Jan'19, Google has expanded the access to 15-second unskippable video ads to all the advertisers by running auction campaigns. You will pay based on impressions (CPM bidding)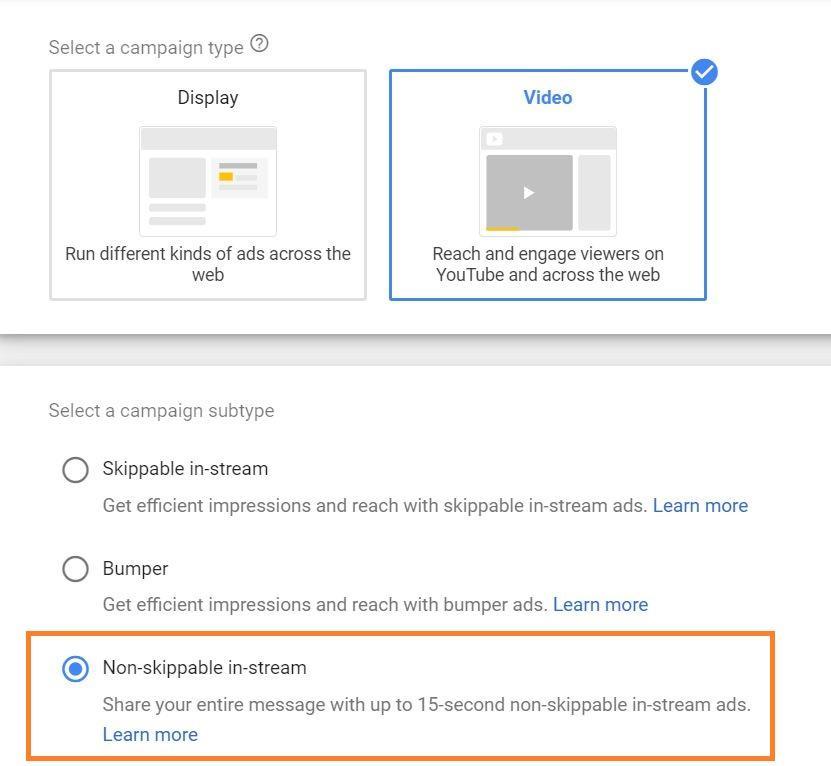 Below are a few benefits of this 15-second non-skippable ad format.
If you are running a YouTube campaign or getting ready to launch a new product non-skippable ads are great ad formats to use when you want to deliver the entire message to a viewer.
This will allow you to have dedicated time with your target audience and is an opportunity to portray your complete message in a single video.
Click Share to Search Campaigns
Like search impression share and search impressions lost due to budget and ad rank, Google has introduced click share to search campaigns.
Click share is the estimated share of all achievable clicks that you have received. The lower your click share, the more opportunities you have to capture additional clicks. For example, if your click share is 35%, which means out of 100 clicks you are eligible to receive you have got only 35 clicks. By having more ad extensions, high bids, and higher budgets you can improve your click share.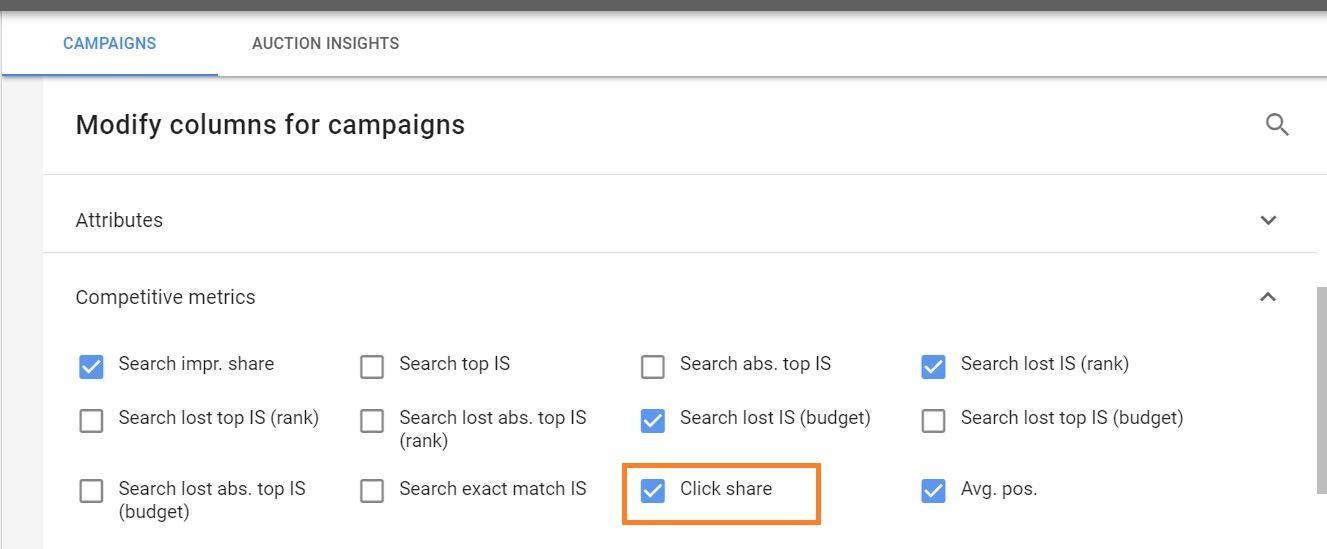 Best Practice: Use click share to view click growth opportunities by increasing bids and impression share to view impression growth opportunities by increasing the budgets
Say More in Your Call Only Ads
Call only ads allows users to directly call you by clicking on the ad in the mobile search results page to get more information about your product or service. Now, you will have an option to add two 30-character headlines and the description length is increased from 80-characters to 90-characters.
This makes sure that your customer is fully aware of who they are calling. So, take advantage of these added text lines in call only ads to describe your business in detail and occupy more space in search engine results page of mobile search.


Here in the ad preview, you can see two headlines. An example is the business name. You can use the first headline to describe your product or service and second headline for any offers available.
Below are the benefits of more text in call only adsAn example
This will help you drive more quality calls and deliver a better customer experience
You can give more information about your products or services which attracts the user to call your business.
Performance Planner in Google Ads
Google has announced that on an average, advertisers can drive 43% more conversions by using performance planner to better your Google Ads spend. Here is a brief performance planner.


With performance planner, you can identify the best spends amounts for your campaigns to drive incremental conversions. For example, you can see in the screenshot of the existing settings. By spending INR 7,50,000 for a duration selected and the estimated number of conversions is 400 according to the existing settings.
But by increasing my spends across the campaigns to INR 1.5 M, the estimated conversions are 613 according to the planned settings.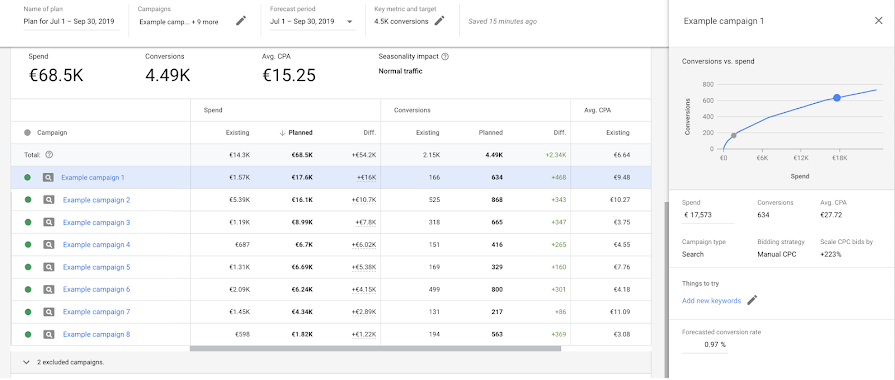 Within your planner, you can deep dive into individual campaigns. You can view a campaign level forecast and allocate spends accordingly. You can also add new keywords and see how it affects campaign performance.
Below are the benefits of performance planner
This will help you in planning the budgets for the coming months by which you can see the estimated number of conversions and CPA's.
You can plan the budget allocation on a campaign level
Set Conversion Action at Campaign Level
This is personally my most awaited update in Google Ads. Now you can set up the conversion action on a campaign level instead of an account level.


This setting controls which conversion actions are reported in the "Conversions" column for this campaign and if you are using smart bidding the campaigns will optimize for the selected conversion action.
For example, you have multiple conversion actions setup in your Google Ad Account say Transaction, Registration or a Newsletter Signup. Now you can opt for a conversion action in any campaign and the campaign will optimize for that conversion action only.
Previously this conversion action was on an account level which means all the campaigns in a Google Ad Account will be optimized for a single conversion action. But with this update, you can have different conversion actions on a campaign level which means you can map relevant conversion goals at the campaign level.
Below are the benefits of having conversion action on a campaign level.
This will surely improve your campaign performance
Derive the conversion goal on a campaign level
You can create multiple campaigns which different conversion goals in a single ad account.