It is essential for marketers to understand and improve the impact that ad spends have on their business. This may be the primary reason for LinkedIn to upgrade its analytics section – to help the businesses quantify the value created by LinkedIn advertising.
This would also enable them to identify what is working and what is not, related to the campaign. And all of this could be tied back to providing actionable recommendations for the brand to improve its ROI.
What is in store for the Brands?
The recent upgrade makes it easier for the brands to monitor their campaign performance, as well as tweak it to improve the campaign:
Detailed demographic reporting – Taking a deep dive into the types of professionals that are engaging with the ads
It is now easy to track which audience segment has a positive response to the ads through demographic reporting under campaign manager. The brands can tweak their ad strategy by identifying the apt target audience and push their content to the segment that would garner highest engagement or better ROI.
A new feature to compare demographics performance simultaneously on single screen – metrics such as impressions, clicks, click-through-rate, conversions and conversion rate
Performance could also be viewed for 7 other traits – job title, seniority, function, industry, company size, location and country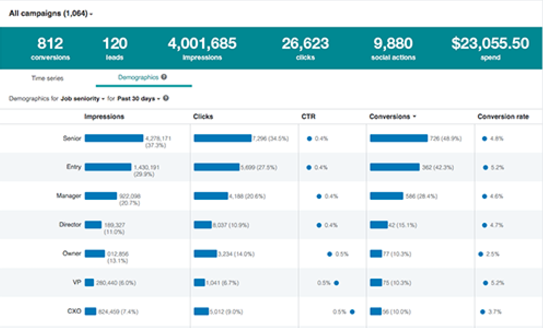 Campaign Insights and Recommendations – Hover cards highlighting the campaign performance and suggestions to better it
Understanding if the campaign is on track, delivering results as expected or deviated from the primary objective. Loopholes and areas of improvement could be quickly identified and worked upon.
Hovering over the daily budget and total budget metrics will give an idea if the brand is on track to utilise its available budget
Hover card displayed under bid value would give an understanding of how the competitors have placed their bids and how a brand could have changed its bidding strategy for better results
A newer feature gives constant alerts for underperforming campaigns and also recommends ways to better the performance – suggestions in terms of tweaking audience size, adjusting bid, or number of creatives
A few other improvements that make it easy to get the insights for the campaign include:
File export options and data availability
Metrics showing the incremental 'earned media' value of the paid campaign achieved from the audience who shared the content with their networks